Decades after conflict first began, life remains precarious for many Palestinians. Economic development has been stifled by political instability, constant conflict, the erection of the West Bank barrier and the continuation of blockades in Gaza.
Amongst a population of around 4.7 million people, hundreds of thousands of families are struggling with economic hardship. Within the Gaza Strip, in particular, a shocking 70% of people under the age of 30 are unemployed.
Water and electricity shortages across Gaza are putting livelihoods, as well as the health of local communities, at risk. A lack of safe water can be especially deadly for children. In Gaza, due to power shortages, inadequate sewage systems and high levels of salt in the water, over 90% of the water is unfit for human consumption, posing a huge health risk.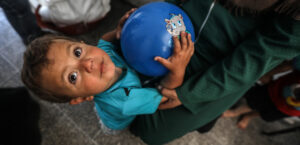 Image: A young boy receives a balloon as part of his Eid gift provided by Islamic Relief[/caption]